2017 Kia Sportage
2017 Kia Sportage v. 2017 Toyota RAV4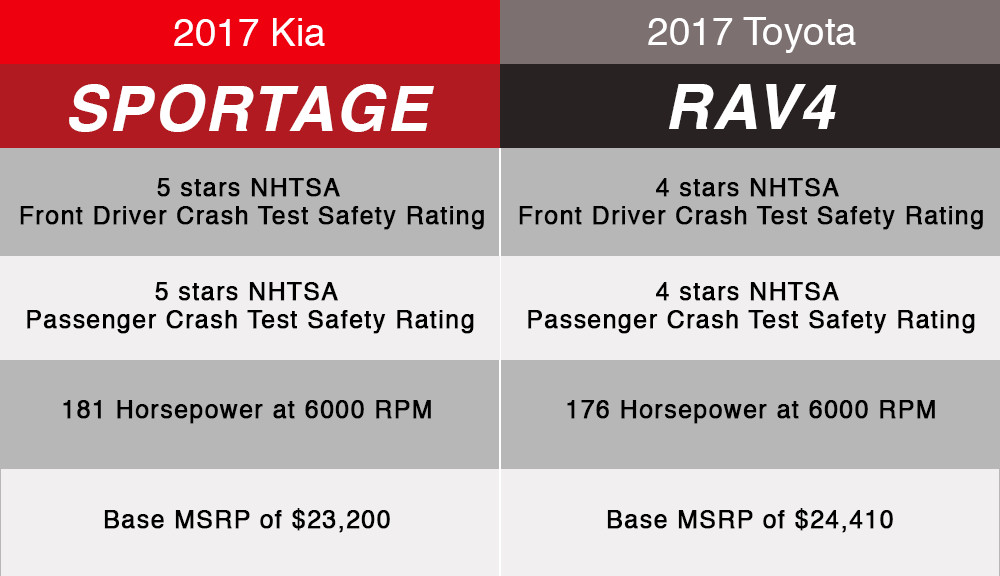 How do you choose between two cars; what should you focus on? When shopping for a family car, there are many important factors to take into account. However, the most significant one of these, when it comes to parents, is typically safety. Would you want to drive your kids around in a car that is not of the highest quality in regards to safety? Neither would we, which is why we believe the 2017 Kia Sportage has an advantage over the 2017 Toyota Rav4.
Here at Portsmouth Kia, we care about your family's safety and our vehicles reflect that. The 2017 Kia Sportage received 5 stars for both the NHTSA front driver crash test and the NHTSA passenger crash test. The Toyota Rav4 only received 4 stars in both categories. If you want a car with safety features that you can rely on, the Kia Sportage is a good choice! Keeping your family safe and sound is an essential part of having a great family vehicle. Your friends at Portsmouth Kia know how important safety is to the modern family.
With 181 horsepower at 6000 RPM in comparison to the Toyota Rav4's 176 horsepower at 6000 Rpm, you can count on the Sportage to get you where you need to go safely and quickly. The best part is the affordability. While ranking top of the charts in safety, the Sportage is also extremely affordable with a base MSRP of $23,200. If you're looking for a car that provides a sense of safety and comfort without breaking your bank, the Kia Sportage sounds like it could be for you. Come try out a 2017 Kia Sportage at Portsmouth Kia and experience all it has to offer!
Awards
10 Most Awarded Cars of the Year
(2017 Model)
- Kelley Blue Book
---
10 New and Redesigned Crossovers
(2017 Model)
- Autobytel
---
Automotive Performance, Execution and Layout (APEAL) Study: Top Models in Segment
(2017 Model)
- J.D. Power and Associates
---
Best Bet: Small SUV
(2017 Model)
- The Car Book
---
Best Buy: Small SUV
(2017 Model)
- Kelley Blue Book
---
Best Family Cars
(2017 Model)
- Kelley Blue Book
---
Best of the Year: Nominee
(2017 Model)
- Cars.com
---
Best Vehicles By Class: Compact SUVs
(2017 Model)
- GreenerCars.org
---
Initial Quality Study (IQS): Top Models
(2017 Model)
- J.D. Power and Associates
---
Must Test Drive
(2017 Model)
- Autotrader
---
SUV of the Year: Contender
(2017 Model)
- Motor Trend
---
Vehicle Satisfaction Award: Compact Crossover SUV
(2017 Model)
- Auto Pacific
---
World Car Design of the Year: Nominee
(2017 Model)
- World Car of the Year
---
World Car of the Year: Nominee
(2017 Model)
- World Car of the Year
---